The Road to Hana tour is a must do for anyone vacationing in Maui. There are even people take the Road to Hana tour from Oahu as a day trip. If you haven't been to Maui before, the Road to Hana is a beautiful 50-mile drive on a winding road through a tropical rainforest. This highway is untouched by the modern world, and you will not find a McDonald's, Walmart or Starbucks along the way. The things you will see are nature in its splendor, and perhaps a few food stands along the way. You may think that you can drive the 50 miles in an hour, but you will want to take the whole day. You will be stopping at waterfalls, pools for swimming, beaches, hiking and even see a blow hole. Listed below in the order you will come to them are five stops everyone won't want to miss.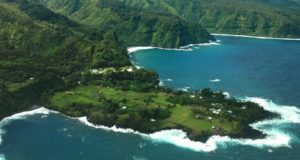 Keanae Village and Peninsula (17) – On Keanae Peninsula, you will find one of the best views highlighting the winding Road to Hana and beautiful scenic views. Shortly after making the turn-off, on your left, you will see a pullout allowing you to stop and get pictures. This is the photo you can share with your friends on Facebook as you describe the 620 curves you took on the Road to Hana! As you continue down the lane, you will notice the historic church, built in 1860. It is the only building on the peninsula that survived the tsunami in 1946. Go onto the lava rock and check out the breathtaking scenic views.
Waikani Falls (19.6) – Thi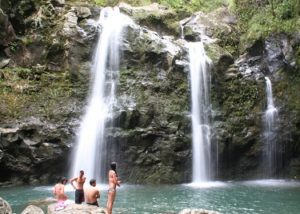 s unique waterfall is also called Three Bears Falls. As the water cascades off the mountain, in breaks up into three distinct run offs representing Papa, Mama, and Baby Bear. There is limited parking, so go past the falls and park then walk back down to view it. Most will want just to get a picture from the road, but those adventurous can swim in the pool below.
Waia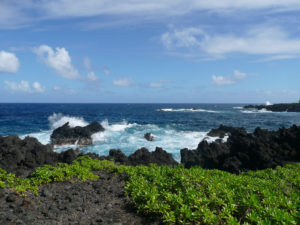 napanapa State Park (32) – This park features a black sand beach, a blow hole, and fresh water caves. There is also camping and picnic spots available. Wainapanapa has so much to do; you could easily spend an hour here.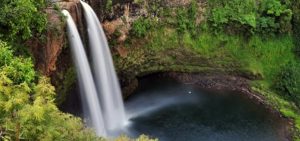 Wailua Falls (past Hana) This is another great waterfall viewed from right off the road so everyone can enjoy it. It plummets 100 feet into a beautiful tropical setting. (As a side note, just to make things confusing, 1.5 miles past Hana, the mile markers start counting down instead of up).
Haleakala National Park and Ohe'o Gulch (past Hana)- Though it is ten miles past Hana, Haleakala is usually thought of like the last thing to see on the Road to Hana. There are two trails in the park; the more common one is the.5 mile loop to Ohe'o Gulch. It is an easy trail and takes you to several pools that visitors can swim in. If you have feel adventurous and enough time, my favorite hike on the Road to Hana is the four-mile round trip hike to Waimoku Falls that takes you through an awesome bamboo forest.
These top 5 attractions on the Road to Hana will be enjoyable to everyone. Young, old, adventurous, non-adventurous, athletic or not, all will be able to access these stops, and all will enjoy them. When traveling the Road to Hana remember, it's the journey and all these wonderful places in nature that you'll enjoy on your drive, not Hana itself. So go ahead, enjoy your journey.
Take the tour of the popular road to Hana and beyond in a comfortable luxury Limo-Van or a Luxury Mini Coach and experience simple views winding over steep valley on the road to Hana.  Enjoy the day viewing lush rain forests and magnificent waterfalls, Hawaiian culture and most breathtaking drives on earth through Maui's tropical rainforest.
The famous Road to Hana private tour characterizes the natural beauty that attracts so many visitors to Maui from its 617 curves and 56 one lane bridges to steep valley and majestic ridges. We recommend a full day tour to enjoy its natural beauty and experience the only black sand beach in Maui, the famous 7 sacred pools at Ohea Gulch, etc. It is a must visit for all with your family and friends as you can taste the real beauty of mother earth.